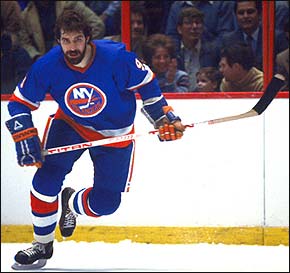 photo courtesy of
http://www.hhof.com/
According to reports, Islanders Hall of Famer and Hockey Hall of Famer Clark Gillies was inducted to the Saskatchewan hockey Hall of Fame earlier today.
Through 13 NHL seasons, 11 of which with the Islanders Gillies managed to put up 697 points and 1023 penalty minutes. Gillies served as captain of the Islanders from 1977 until 1979 and was a member of the Islanders 4 Stanley Cup teams in the early 80's.
We would like to extend congratulations to Gillies on this great honor.
http://www.mjtimes.sk.ca/Sports/Hockey/2013-07-26/article-3329442/Saskatchewan-tough/1
(h/t to Lisa from Islander Mania for the link)