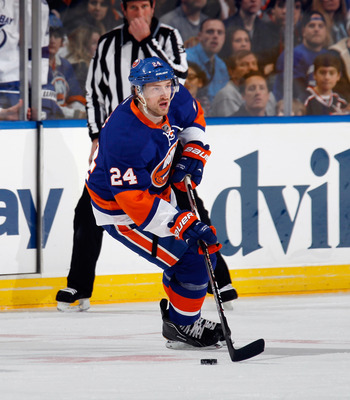 photo courtesy of
http://cdn.bleacherreport.net/
Update: According to Staple, defenseman Brenden Kichton rejected a contract offer from the Islanders and will likely reenter the draft this June. Kichton was a 5th round pick by the Islanders in 2011. This year he leads all WHL defensemen in scoring with 83 points. He feels like he could go higher in the draft then the fifth round this time around which explains his refusal to sign and with those numbers I think he is right.
https://twitter.com/StapeNewsday/status/313036844143112192
According to Newsday, the Islanders are planning to soon begin extension talks with UFA's to be Evgeni Nabokov, Brad Boyes, and Lubomir Visnovsky. Talks with Streit are ongoing and haven't had meaningful progression yet. Arthur Staple says that both Visnovsky and Nabokov have shown a desire to stay with the team after the season ends.
This could be a little surprising when it comes to Visnovsky because he basically tried to re-write the excuse book attempting to avoid coming here after his trade at the draft last year. Although the recent news about him
getting a house in Jericho
shows that he maybe just came around on playing here.
Right now, Staple says with the talks of extensions for Streit, Visnovsky, Nabokov, and Boyes its not likely they will be dealt at the deadline April 3rd. However, that could obviously change depending on team performance.
While this is encouraging, this is sort of discouraging as well. While I like keeping Nabokov and Boyes and Visnovsky this doesn't give them much room to improve the team over the summer. Well see what happens, maybe after five years Garth will finally get a little creative.
https://twitter.com/StapeNewsday/status/313030553756659712
photo courtesy of
http://binaryapi.ap.org/
NCAA Players On The Way?
photo courtesy of
http://www.nyhockeyjournal.com/
Staple also said that the Islanders are keeping an eye on the NCAA post-season. Upon the end of the post season the team hopes to sign Anders Lee from Notre Dame and Scott Mayfield from Denver. If they are signed in time, there is a chance that they could join Bridgeport for the stretch run to the playoffs like Brock Nelson did last season.
https://twitter.com/StapeNewsday/status/313031082746454016
I don't really know much about Mayfield beside the fact that he is big. With the way Bridgeports defense has struggled this season, I am sure they would welcome him with open arms though. However, I am excited about Lee. He has been one of the more talked about Isles prospects that haven't made it to the AHL yet so I am really curious to see what he can do.
photo courtesy of
http://1.bp.blogspot.com/