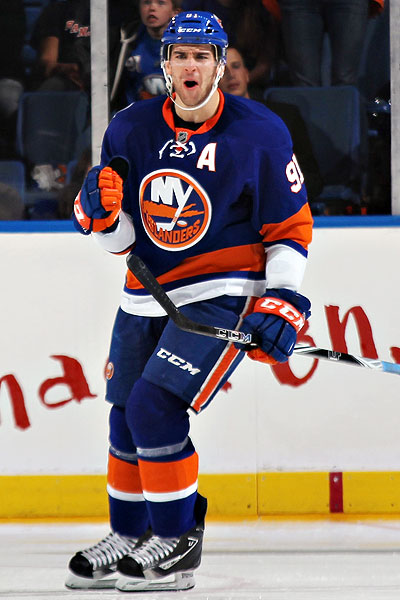 photo courtesy of
http://a.espncdn.com/
Tonight, our Islanders finally snapped their five game losing streak by defeating the rival Rangers by a score of 4-3 in a shootout. Here are some my notes from the game:
-Well it was bound to happen, it was nice to see the team end the streak here instead of extending it out like they have done in previous years.
-Don't like Finley, but Finley had his best game as an Islander tonight.
-Matt Martin had a good game tonight as well, his physical presence was very noted which is a good sign with him. He was great on the penalty kill as well!
-Great pass by Casey on McDonalds goal! He continues to bring good efforts game in a game out.
-Not a huge surprise that Doug Weight was the one to rip into the team after there terrible first period. Although, the emotion shown by Capuano on Hagelins goal was probably the most emotion I've seen from him in his time as Islander coach.
-Nice game from Tavares, turnovers were a little high again but it is always good seeing him get on the board.
-Penalty kill remains a great strength for the team this season!
Well the Islanders were due for a win, tonights probably bought Capuano a little bit of extra life in terms of keeping his job. For the future games though, a more consistent effort is needed. They can't come out and only show up a varying points of the game, need to be there from the start which wasn't the case tonight.
Next Game: Saturday @ Home VS The Devils