Last week, we began our season predictions by discussing the projected top 6 forwards for the Islanders on opening night. Today, we will continue with our predictions by going onto the projected bottom six forwards.
photo by
dobbersports
1) Anders Lee
22 goals
18 assists
40 points
Assuming he is given a chance to play, these numbers should be easily attainable for Lee as he continues to fine tune his game in his first full season in the NHL.
2) Frans Nielsen
23 goals
30 assists
53 points
I think Nielsen will see a slight dip in production compared to last years career year. However, he will still put up very solid numbers as one of the veteran leaders on this young club.
photo by
zimbio
3) Michael Grabner
18 goals
15 assists
33 points
While this won't be the most spectacular year for Grabner, I think he will have an effective season. A definite improvement upon his lackluster performance last year.
4) Cal Clutterbuck
14 goals
9 assists
23 points
Assuming Clutterbuck stays healthy, I think these are realistic numbers for him as they are right inline or slightly lower then his average in his time with the Wild.
5) Casey Cizikas
11 goals
14 assists
25 points
Cizikas himself admitted that he had a bad season last year. I have faith in him and think he will end up with a nice rebound season this year as he looks to play his part in helping the team get back to the playoffs.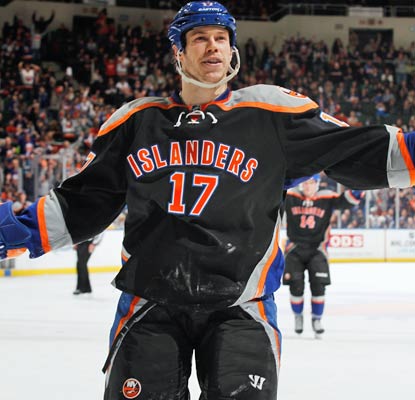 photo by
CBS
6) Matt Martin
9 goals
8 assists
17 points
350 hits
Like he done for many years now, I think Martin will chip in his little offense from the fourth line and continue to bang bodies and rank at the top of the league in hits.
Guys who could see time:
1) Josh Bailey
6 goals
25 assists
31 points
I have to put Bailey in this area and not the area above because I can't justify giving him a spot in the lineup over Anders Lee. I know the team will most certainly disagree with me on this. However, to me it would be counterproductive. I think his stats will take a hit with the decrease in his ice time with the added secondary scorers and logjam of forwards in general.
2) Colin McDonald
5 goals
8 assists
13 points
With the logjam at forward I think McDonald will be the odd one out. Due to that, his stats will likely suffer. However, with inevitable injuries that occur he will most certainly get some games here and there throughout the season.
photo by
ESPN
3) Cory Conacher
5 goals
5 assists
10 points
Barring an awful camp, Conacher will likely be with the team on opening night. However, unless there is an injury I would be surprised if he is in the lineup. Much like McDonald above, Conacher gives the Islanders an experienced semi productive guy to go to should injuries hit them instead of having to go to kids who might not be prepared for the NHL yet like they have had to do in years past.
4) Jack Skille
4 goals
3 assists
7 points
Skille will spend most of the season in Bridgeport. However, much like McDonald and Conacher when injuries occur he will be one of the first to get called up.
5) Harry Zolnierczyk
2 goals
1 assist
3 points
Zolnierczyk really isn't an NHL skill player. While in the AHL he has proved to have some scoring touch, in the NHL he is more of a 4th line pest and in his limited experience has played that role pretty effectively. So if called on here I think he could be effective in this role in limited action.
6) Eric Boulton
2 goals
0 assists
2 points
The Islanders resigned Boulton before last season even ended. While he did have a better season last year then he did during the lockout shortened season two years ago, Boulton's impact on the actual game itself is often negligible. With the crowded depth chart it wouldn't surprise me at all if Boulton found his way to Bridgeport at times throughout the season.