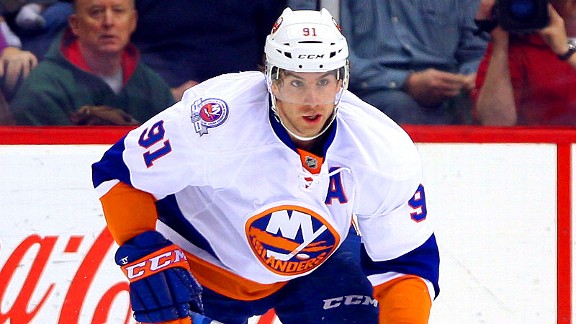 photo courtesy of http://a.espncdn.com/
Tonight, our New York Islanders defeated the Washington Capitals by a score of 3-2. Here are some of my notes:
-The struggles of the first line are concerning! They haven't been great the last few games, but tonight they were very bad.
-Marty Reasoner is flat out bad! How many grade A scoring chances is he going to mess up this season? Tonight, he has the puck with nobody on him in the middle of the hash marks right in the slot and he can't even hit the net? Also, he needs to take the body on Ribeiro to stop the first Caps goal, instead of stick checking like a mad man like he did. Only sixteen games left in his Islander career.
-Good to see Bailey get on the board! Rattled off a nice shot on his goal!
-Even with their struggles, the first line still came through when it mattered! Great work by Moulson and feed to set up Tavares for the goal. Great shot by Tavares as well to net his 20th goal of the season.
-Michael Grabner had a great game! Had a lot of energy on the ice and created a ton of chances!
-The defense was great against Ovechkin tonight. Did he get a point? Sure, but given the streak he has been on, to hold him goal-less and control their gaps like they did was impressive.
-Thomas Hickey was one of the stars in that regard, he had a very solid game tonight.
-Good for Cizikas to be out there in the final minute protecting the lead. The coaches sure showed a lot of confidence in the young player putting him out there at the time of the game and Casey has earned it.
With their win tonight, the Islanders sit in sole possession of the ninth spot of the conference just two points behind the Rangers for the final playoff spot. After the Flyers loss today, we have the chance Thursday to drive the nail deeper into their coffin. This team hasn't won three games in a row all season thus far, Thursday would be a heck of time to start. Especially with the hottest team in the NHL coming up on Saturday.
Next Game: Thursday @ The Flyers