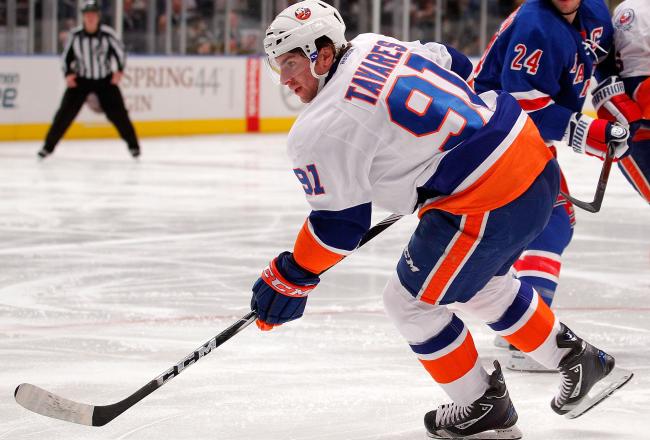 photo courtesy of
http://img.bleacherreport.net/
Tonight, in a rare high scoring game with the Devils, our Islanders came out on top by a score of 5-4 in overtime. Here are some of my notes from the game:
-With this win, the Islanders moved into a tie for first place. How good does that feel to say?
-Another multi point game from Tavares, after what for his standards was a slow start he has certainly come on in this last week. He currently sits tied for fourth in the NHL in scoring with 11 points.
-You have to love the energy Casey Cizikas brings! His energy was infectious tonight and because of that the third line didn't lose a step with him stepping in for McDonald.
-Brad Boyes had a good game tonight, showed great vision on his assist on Tavares first goal.
-On his first game after his extension, Brian Strait was solid once again.
-Nabby didn't have his best game, but he gave us a chance to win which is all you can ask.
-MacDonald saved the game in OT blocking the shot with his back on the penalty kill.
-Grabner had another solid game, and Ullstrom was pretty good to.
-What a story Keith Aucoin is, a little over 100 NHL games in his career coming into this season and now he has 4 goals in 7 games.
After the Penguins game, it left many fans wondering how they would come out tonight. Whether it would be a typical Islander let down game, or if they would bring it to the Devils and get the win. The fact that they managed to get the win after coming back three times is a real refreshing sign and hope the momentum carries into Superbowl Sunday against the Devils.
Next Game: Sunday @ Home VS The Devils 3PM