Next up we will look at 6'1 200 pound defenseman Ryan Murray.
Murray who is arguably the most NHL ready defenseman in the draft grew up patterning his game after former Devil and Duck Hall of Fame defenseman Scott Niedermayer.
BJ Macdonald of NHL central scouting says Ryan is the best skater in the WHL. Evidently, Murray did a good job patterning his game after Niedermayer because the young defenseman draws a lot of comparisons to the Hall of Famer to be because of his sound defensive play and his fantastic positioning.
Murray is also lauded for his character and leadership skills which is something we all know that the Islanders really look for in perspective draft picks. Murray has been the captains of his hockey teams since he was ten years old minus this years WJC team so being a leader is something he is certainly familiar with.
Although the Islanders dont have a tendency to pick defenseman in the first round they would be hard pressed to pass up on this young man assuming he is still available.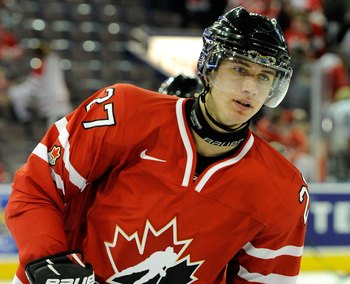 image taken from:
http://cdn.bleacherreport.net/images_root/slides/photos/001/787/586/136704580_display_image.jpg?1326290465